Are you ready to tantalise your taste buds and experience the grandeur of Diwali like never before? This year, let's add a touch of royalty to your festivities as we dive into the delightful world of Jaipur famous sweets.
Jaipur, the Pink City, is renowned for its special sweets that exude a rich heritage and delectable flavours. In this blog, we'll take you on a scrumptious journey through five irresistible Jaipur special sweets that you absolutely can't miss during the Festival of Lights. So, get ready to savour the regal flavours and make your Diwali truly sweet!
What Are The Jaipur Famous Sweets That You Can Savour In Diwali?
Here we have compiled a list 15 Jaipur famous sweets that are an absolute must try during Diwali season. These famous Jaipur special sweets reflect the cultural richness of the region and will undoubtedly add an extra layer of sweetness to your celebrations:
Ghevar

Mawa Kachori

Mohanthal

Gulab Sakri

Badam Ki Barfi

Anjeer Barfi

Pyaz Ki Kachori

Peda

Churma Ladoo

Gond Ke Ladoo

Besan Ke Ladoo

Chandrakala

Moong Dal Halwa

Rasgulla

Imarti
Celebrate Diwali With 5 Jaipur Ki Famous Mithai
Now, we will share the detailed recipes of 5 Jaipur sweets! The key ingredient that adds that rich and authentic flavour to these Jaipur special sweets is none other than ghee. And when it comes to obtaining the purest desi ghee to ensure an authentic taste, there's no better destination than Rufil. As one of India's leading dairy manufacturers, we offer you pure and 100% natural desi ghee. So, why wait? Order Rufil ghee and embark on your journey to prepare these mouthwatering Jaipur famous mithai
Ghevar
Ghevar is a classic and famous sweet in Jaipur, especially popular during festivals like Teej and Diwali. It's a disc-shaped dessert made from a special batter that is deep-fried and then soaked in sugar syrup. Here's a simple recipe for Ghevar:
Ingredients
1 cup all-purpose flour
1/2 cup Rufil ghee
2 cups sugar
A pinch of saffron strands
Cardamom powder
Rosewater
Ice-cold water
Method>
Make a thick batter using flour, ghee, and ice-cold water.
Heat ghee in a deep pan, and carefully pour the batter to form a disc.
Fry until it's golden brown and crispy.
Make sugar syrup using sugar, saffron, and rosewater.
Soak the Ghevar in the sugar syrup.
Garnish with chopped nuts.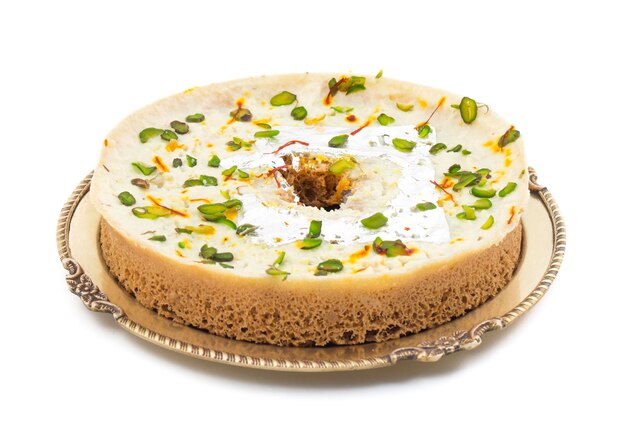 Mawa Kachori
Mawa kachori is a delectable sweet filled with a rich, sweetened khoya (mawa) mixture. It's another Jaipur ki famous mithai. Here's a basic recipe for this Jaipur famous mithai:
Ingredients
2 cups all-purpose flour
Rufil Ghee for frying
1 cup khoya (mawa)
1/2 cup powdered sugar
Cardamom powder
Chopped nuts
Method
Prepare a dough using the flour and water.
Roll the dough into small discs.
Fill with the mawa mixture and seal the edges.
Deep fry the kachoris in ghee until golden brown.
Let them cool, and then garnish with chopped nuts.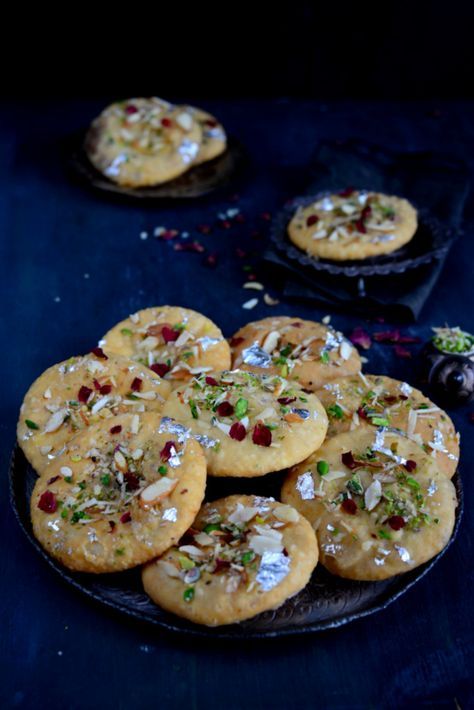 Gulab Churma
Gulab Churma is one of the best sweets in Jaipur, made from deep-fried wheat flour balls soaked in rose-flavoured sugar syrup. It's a delightful treat. Here's a recipe:
Ingredients
1 cup wheat flour
1/4 cup Rufil ghee
Water for kneading
2 cups sugar
1/2 cup water
A few drops of rose essence
Ghee for frying
Method
Make a stiff dough using wheat flour, ghee, and water.
Shape the dough into small balls and deep fry them until golden brown.
Make sugar syrup with sugar, water, and rose essence.
Soak the fried balls in the syrup.
Serve once they absorb the syrup and cool down.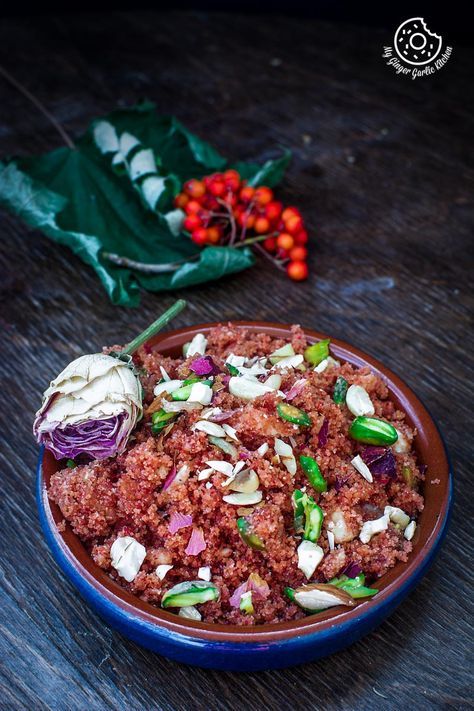 Imarti
Imarti is a sweet and visually appealing Jaipur ki famous mithai that's similar to jalebi. It's made from urad dal batter and soaked in sugar syrup. Here's a the recipe of such famous Jaipur sweet:
Ingredients
1 cup urad dal (black gram)
A pinch of saffron strands
Cardamom powder
Yellow or orange food colour
Ghee for frying
Method
Soak urad dal for a few hours and blend it into a smooth batter.
Add saffron, cardamom, and food colour to the batter.
Heat ghee and pipe the batter into spiral shapes.
Fry until they turn crisp and golden.
Soak them in sugar syrup.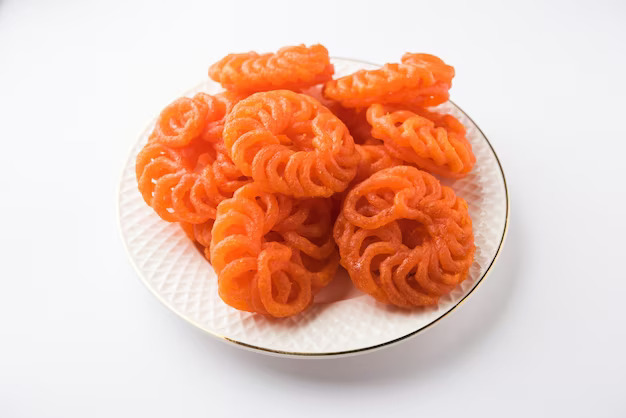 Balushahi
Balushahi is a classic North Indian sweet that's popular in Jaipur too. It's a flaky, deep-fried pastry dipped in sugar syrup. Here's a recipe for making Balushahi:
Ingredients
2 cups all-purpose flour
1/2 cup Rufil ghee
1/4 cup Rufil yoghourt
A pinch of baking soda
For the sugar syrup: sugar, water, cardamom, and saffron.
Method
Make a dough using flour, ghee, yoghourt, and baking soda.
Roll the dough into small discs and make a small indentation in the centre.
Deep fry until they turn golden brown.
Make sugar syrup and dip the Balushahi in it.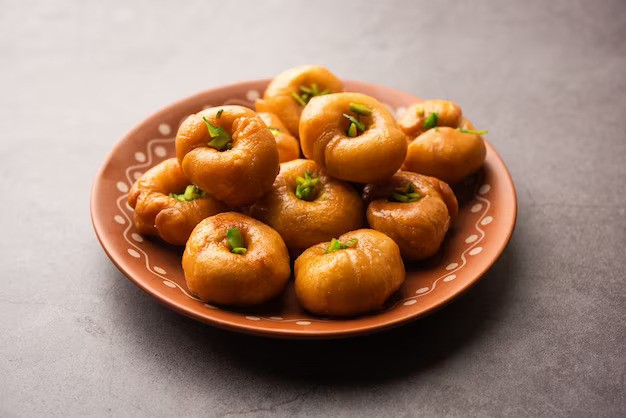 Summing Up!
We hope that these five Jaipur famous food sweets have ignited your culinary curiosity and inspired you to infuse the regal essence of Jaipur into your Diwali celebrations. From the crispy indulgence of Ghevar to the creamy richness of Mawa Kachori, these delicious Jaipur famous mithai promise to add an unforgettable sweetness to your festivities. Remember, the key to their authentic flavour lies in the pure and 100% natural Rufil ghee. So, don't hesitate to embark on this delectable journey and celebrate Diwali like royalty. Make your festivities truly special with these time-honoured Jaipur ki famous mithai!
Frequently Asked Questions On Jaipur Famous Sweets
1. What Are Jaipur Famous Sweets?

Ans: Jaipur is famous for sweets like Ghewar, Mawa Kachori, Feeni, and Malpua.

2. What Is The Best Way To Enjoy Jaipur Sweets?

Ans: The best way to enjoy Jaipur sweets is to visit local sweet shops and savour them fresh, paired with a cup of masala chai or traditional lassi for an authentic experience.
Popular blogs:
Diwali sweet recipe with ghee |
Navratri Vrat Recipes
|
Navratri Diet Plan
|
Dairy Products For Nourishing Youth Nutrition
|
Health Benefits of Dairy Products
|
Creative Ways to Use Dahi
|
Dahi Paneer Tikka
|
5 Rajasthani Milk Desserts Recipes
|
Delicious Sweets For Ganesh Chaturthi